Well here we are.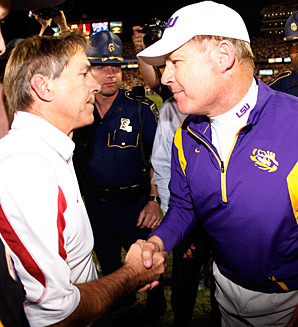 The BCS has rendered the SEC championship game as useless as the Meineke Car Care Bowl. You see, if LSU beats Georgia this Saturday, they keep the #1 spot and go the national title game. On the other hand, if they LOSE…they go to to the national title game anyway. Mark Bradley at the AJC said it as well as anyone: this week's games are pointless. And that's because we have a flawed system that lets in too few teams into the national title hunt and trusts voters, who are by their very nature biased and sometimes blind, to pick those two teams. It's ridiculous.
I refuse to watch two teams that already played this year get a pass straight to the championship, ESPECIALLY if both team don't even win their own conference. It's a travesty, plain and simple. So if this year's BCS national championship is LSU/Alabama Part II: Battle of the Field Goals, I'm not watching. Why should I, and even more pressing, why should you? What are you watching for? If you are a fan of either team, then you should certainly watch the game (I know I would watch if Texas or UC Davis was playing). But otherwise, you're watching a game that decides nothing, really. And that's what the BCS has become: a system that doesn't do anything. And it's a shame, given all that college football has to offer.
It's not LSU's fault. It's not Alabama's fault. It's an inane system.
So I'm boycotting. Wheel of Fortune reruns here I come.
—
I have made a small change to my playoff system, something I'm allowed to do because it doesn't actually exist. Top 6 champs still make it, plus 2 at-larges, but the last 4 seeds will be re-seeded in order of rating. This is because the last two conference champs are likely to be rated way worse than the 2 at-larges. So this is what we would be looking at:
#8 Michigan St. (Big 10) @ #1 LSU (SEC)
#7 Oregon (Pac 12) @ #2 Oklahoma St. (Big 12)
#6 Alabama (at large) @ #3 Houston (CUSA)
#5 Stanford (at large) @ #4 Virginia Tech (Big East)
Now, I just ranted about the SEC game being pointless. In this system, if LSU won, they would stay at #1. If they lost this Sunday, they would be forfeiting their chance to host a game (the best seed they could get would be #5) AND they would risk falling behind Alabama and Stanford and not even make the playoff. So every single game counts in this playoff system.