Look, I'm just being honest. A few thoughts on the upcoming College Football Playoffs: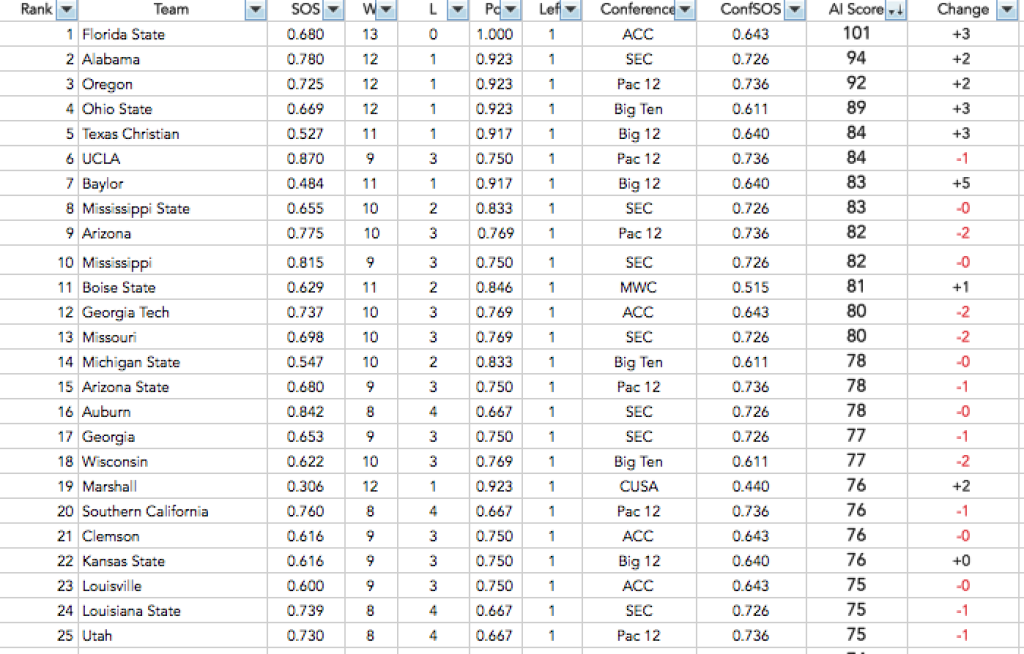 This is a huge step forward from the BCS model. Huge. As I've said before, if you have 129 teams and they each play about 13 games, you can't possibly have enough interaction to narrow the playoff field to 2 teams. 4 teams is 100% better (literally and figuratively) than 2 teams for a field of this size.
I'm not a fan of committees, but I think this committee did the best best possible job with the setup. They chose the top 4 conference champions for the 4 spots.  I LOVE Baylor and TCU. I root for them every week they don't play Texas. But TCU was not a conference champion–which is why they didn't get bumped up after the championship games–and I don't think Baylor really has a case against any of the 4 teams that are in. Of course, if Baylor DID look stronger, then there would be some controversy.
I love the idea of using prestigious bowl games to host semifinals. I've pushed for it at least as far back as 2009. The only thing that would be better is if they games were played on college campuses. Hopefully, if/when they move to 8 teams, they'll put the quarterfinals on campus.
My ratings are even more boring than usual. If I were slotting the 6 big bowl games, my ratings would have chosen the exact same 12 teams that the committee chose. The only thing I really have to add here is that it would have been nice to see these 4 quarterfinal games on December 20:
#11 Boise State at #1 Florida State in Tallahassee
#7 Baylor at #2 Alabama in Tuscaloosa
#6 UCLA at #3 Oregon in Eugene
#5 TCU at #4 Ohio State in Columbus
I would include the losers of those quarterfinals  in the "New Year's Six," as ESPN is calling those 6 bowl games. But yeah, same 12 teams.
I think these ratings have outlived their usefulness. The whole point is to provide a sunnier alternative to an unsatisfying college football playoff system, but I think this is already much more satisfying than the model of the last decade and a half. The AI ratings have grown out of existence.
I'll see you next year, or maybe not!