It's been a fun college football season. Here's how my proposed system would keep the season going with an opinion-free* 8-team playoff:
*The reason I say this is opinion-free is because every team would go into each season knowing exactly who makes the playoff: the six top-rated conference champions and next two highest-rated teams, as determined by a quantitative formula that only knows which teams won and which teams lost–no "this team looks better," or "that team would win in a rematch."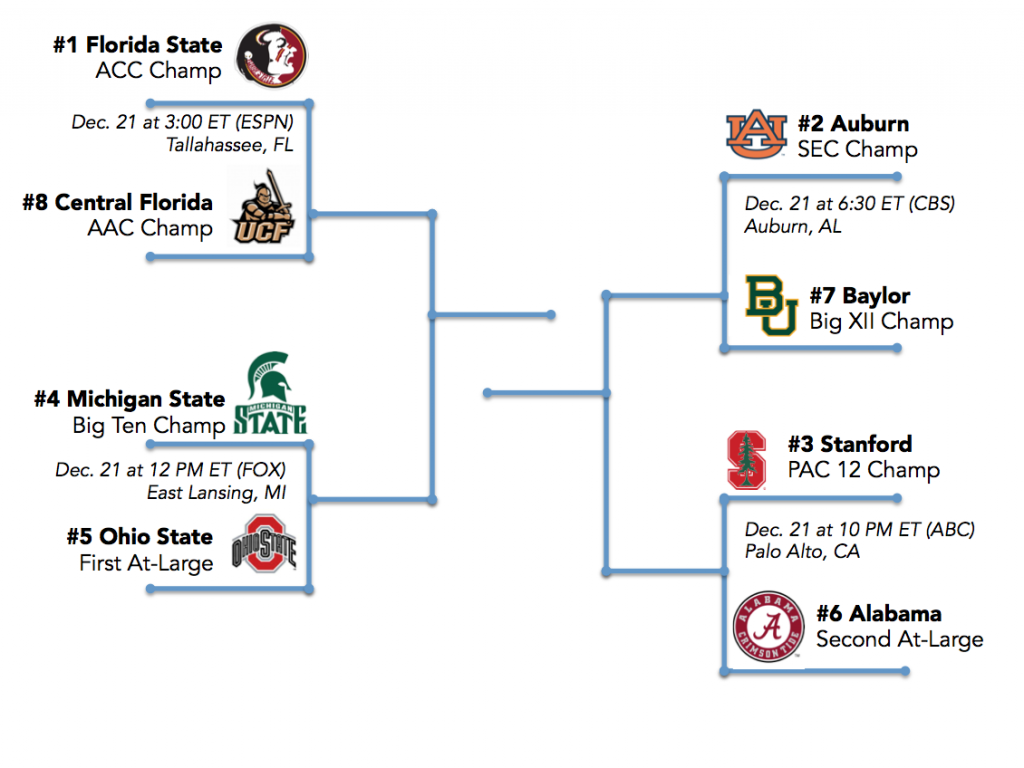 WATCHABLE. Is it exactly what I would have wanted? Well, I wouldn't choose a rematch between Michigan St. and Ohio St. in the first round. Maybe there could be a rule that says two teams from the same conference cannot play in the quarterfinals. But in any case, Ohio St. was the higher-rated team coming into the Big Ten Championship Game, and now the Spartans beat them for the right to host a playoff game against them at home (it sure beats the alternative, which is playing in an exhibition against Stanford in Pasadena).
I like the in-state Florida matchup. The #1 seed vs. the de facto Cinderella of this tournament. If NIU had beaten Bowling Green, they would have earned the right to be here.
Not that it matters what I think in a system like this, but I think these are the correct 8 teams. Every other team in the entire country except Northern Illinois has 2 or more losses, and NIU had that chance to get in had they beaten Bowling Green this past weekend. 6 teams in this bracket have 1 loss; Stanford has 2, and Florida State has none so far. So I like this bracket because that essentially means that every team in the FBS had a chance to make it to the National Championship (honestly, does NIU or UCF have a chance in the current system or the future 4-team playoff, even if they went undefeated?). The best conference champs are in, and two teams that can say "hey, we just had one-slip up" are in as well. Fair, in my opinion.
—
In any case, I'm looking forward to some of the bowl games. I guess. But not really. See all 5 of you who read this next season!