The SEC is dominating most ratings, including mine, at the midway point of the season.  I have 5 SEC teams in the top 8.  All these teams will have (or have already had) a chance to prove themselves and rise to the top.
Notre Dame is making it interesting this year. I summarized my playoff format in last week's post, and one of the challenges for the Fighting Irish is that they don't have a conference to win, meaning they should have to demonstrate beyond a reasonable doubt that they belong in a playoff. If they win this week, that might happen.
Here are the projected matchups, assuming the higher-rated team wins out:
8-team Playoff – First Round on Sat. December 20
#18 Minnesota @ #1 Ole Miss (1) in Oxford
#12 Marshall @ #3 Florida State (2) in Tallahassee
#4 Notre Dame (6) @ #6 Baylor (3) in Waco
#2 Miss State (5) @ #10 Oregon (4) in Eugene
4-team Playoff
#6 Baylor (4) vs. #1 Ole Miss (1)
#2 Miss St (3) vs.  #3 Florida State (2)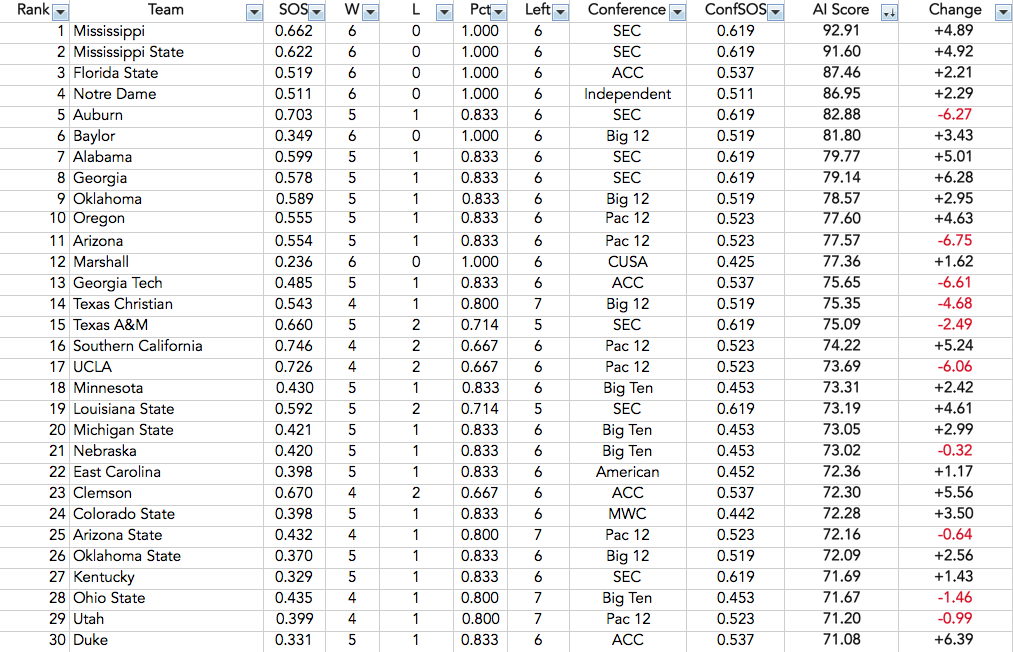 Top Photo by Robert Jordan, Ole Miss Communications.